Hello racers!
Race day is only two days away! If you pre-registered, thank you! Your racer bag will available at the shop on Saturday (10 – 7). If you didn't register online, you will be able to register starting at 8:00 on Sunday at the race. Sorry, you will not be able to register at the shop on Saturday.
Race Day Schedule….
8:00 Reg opens & packet pick-up
9:40 Skippers Meeting
10:00 Racing begins (two starts: long course and then short course/Jrs)
11:45 Kids Race!
12:00 -1:30 lunch, raffle and awards
We have amazing prizes in the raffle thanks to our sponsors: Riviera (donating a board!), Surftech, Ke Nalu, Naish, SIC, Boardworks, Kialoa, Starboard, Surftech, Amundson, FCS and O'Neill.
Here's a bird's eye view of the venue layout. Please note where you can and cannot park!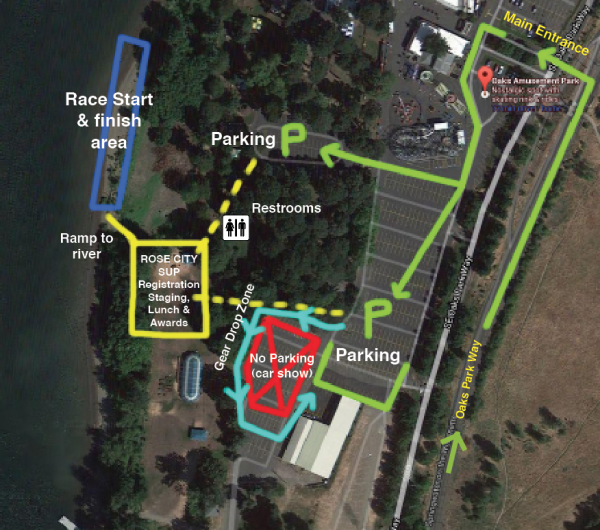 Driving directions to Oaks Park detailed below.
[Side note: There's TONS of things going on this weekend with Rose Festival, so if you're coming from out of town, you might want to look up www.rosefestival.org to check it out. Glad to see the fleet ships return this year.]
See you Sunday!
Gorge Crew
Directions from 1-5 Southbound (and from I-84):
Follow I-5 south to Exit 299A to Macadam Ave. Move to the right lane after exiting to merge RIGHT onto Macadam Ave southbound.
Proceed 2 miles, turn LEFT onto the Sellwood Bridge
Turn LEFT onto 6th Ave.
Turn LEFT onto Spokane St.
Turn RIGHT onto Oaks Park Way
Directions from I-5 Northbound:
Exit 297 to Terwilliger Blvd
Turn RIGHT on Terwilliger
Turn LEFT on Taylors Ferry
Turn RIGHT on Macadam Ave.
turn LEFT onto the Sellwood Bridge
Turn LEFT onto 6th Ave.
Turn LEFT onto Spokane St.
Turn RIGHT onto Oaks Park Way